Fly reels are used to balance the weight of the rod during fly fishing.  They provide the necessary power to the rod to hold the fish when it is trying to escape. There are different types of inexpensive fly reels made for different types of fish and water. 
People who love fly fishing or are at a beginner level don't have much knowledge about the type of reel they should buy for their fly-fishing trip. Due to which they end up spending much more amount on the type of reel that isn't up to their expectations.
Every type of gear in fly fishing is made for certain tasks keeping the outer environment and conditions in mind. Every individual has his/her own choice when it comes to fly fishing whether they love freshwater or saltwater.
After some research, we have found 7 best fly reel under $100 that are suitable for specific conditions and environments and that would help you to choose the right reel for the right price.
What does a Fly Reel do?
A fly-fishing reel does three basic tasks related to the fly line to catch the fish. One use of a fly reel is to store the line. The reel has the capacity to hold more than twice the amount of line which balances the weight of the rod.
Fly reel helps to attract the fish in quickly without much effort, which makes it easier to fight against the fish. It also helps to throw a larger and farther fishing lure to catch a fish which increase your chances to catch more fishes.
The reel also helps to maintain the amount of pressure required to control the fish while fly fishing.
What should you look for in a Budget Fly Reel?
A Fly Reel should support the fly rod and the external conditions in which it is being used by the angler. A fly fish reel comes in different shapes and sizes, so it is important to choose the right reel size which can support the weight of your rod.
There are 100's of inexpensive fly reels out there but there are some specific factors that will help an individual to choose the right reel of their choice and main purpose. The main factors that determine the right choice for a reel are as follows: –
Price- Depending on the quality and the make, fly reels run from as low as $40 to $800 and above. But a very good trout fly reel can be bought in the range below $100, and you can buy an excellent reel that will last you a lifetime and that comes with exceptional features and specifications.
Material/Construction- Most of the time reels are made up of either aluminum or plastic. Aluminum is stronger than plastic and acts well. It is up to your suitability which material you choose.
Arbor Size- Size is very important as it supports the fly rod. Arbor size should be chosen so that it can easily handle the line weight and supports the rod.
Drag System- Drag system plays an important role while fishing for a big fish but not in case of a trout. So, one must choose a strong drag system for fishing for a big fish.
Here are the 7 Best Fly Reels under $100
---
1. Best Cheap Fly Reel Under 100 – Orvis Clearwater
The Orvis Clearwater fly reel is often said as an all-rounder fly fishing reel. This budget fly reel has a complete reconstruct recently, bringing it up to date with the latest technology to match the best entry. The Orvis fly reel is durable, so there is no need to customize it with some fly combos. 
With a large reel size, you get a powerful pull to draw the fish in your direction. This is a major quality that makes this the best value fly reel. You can use the Orvis Clearwater in the majority of environments, rivers, and lakes to also work well in freshwater and saltwater.
The reel is well made, while the graphite insert is strong and requires little maintenance. This reel is very cheap in price and therefore, it is so popular among fly fishing enthusiasts – especially if you don't have a huge budget, but still want to get the most out of your fly-fishing hobby.
Pros
Very lightweight to balance the fly rod.
25-year warranty
Pulling capacity
Cons
Large arbor increased drag pressure
The texture is not very much smooth
Not suitable for the beginners
---
2. Best Trout Fly Reel Under 100- Redington Zero
This is an affordable fly reel that is best suited for trout angling on shallower streams and rivers. This reel is a fast action reel that does not require much effort to handle and operate the reel. This reel comes with soft touch handles due to which the angler can easily do multiple hand movements.
This reel offers a fast draw which requires less force to catch the fish. A person can use this reel by any hand he/she wants whether it is left or right. So, if you need a fast, actionable reel to catch lots of small fishes you should definitely purchase this reel.
One can choose the best match for your fishing set up, based on the rod and fly line, you favor to use.
Pros
Lightweight
Soft touch handles
Durable and strong construction
Lifetime warranty
Best suitable for the beginners
Cons
The clicking sound is very much loud
Has very little drag power
---
3. Best Saltwater – Redington Crosswater Fly Reel
The Redington's Crosswater reel offers an excellent choice for the beginner, learning fly fishing. This fly reel can be used for any size of fish whether it is a big fish or a medium fish. It is the best saltwater fly reel under $100 which can resist corrosion by harsh saltwater conditions.
It is equipped with a graphite medium-fast action fly rod which is hard to break. This reel is made in such a way that it can attract even a big fish with much less effort. The Crosswater reel provides great length to pull a farther line but this reel also comes with a shorter length which increases its fighting capability against the fish.
It is a slow action fly reel that provides stability against saltwater current and can last much longer than any other fly reel. This makes it a perfect choice for travel anglers.
Pros
Large arbor design for a strong pull
Strong drag system
Great for the beginners
Excellent price
Cons
Does not work well with small fishes
Lack of a shoulder strap on the carry case
1-year warranty only
---
4. Best 5 Weight Fly Reel – Temple Fork Outfitters NXT
This fly reel is a lightweight fly reel that helps in learning the sport for beginners in an easy way. The 5-weight reels are often considered ideal for an all-round fly device, these reels work very well for small fishes and trout.
This reel is made up of large size which provides a great reach which is a great choice for many anglers. It is equipped with a strong handle which provides a smooth grip and eliminates wrist pain.
This reel is made with a large arbor and strong drag system and this will allow the fly line to flow off with ease and smoothness. Large arbor also increases the capability to pull the fish out of the water at a fast speed. It also features a reel case to protect it from when you take a road trip this summer.
Designed for fly fishing in both saline and fresh waters, the reel which is made up of aluminum can tackle the tough conditions in salty water.
Pros
Large arbor reel
Easy to control/ handle
Lifetime warranty
Adjustable gear drag system
Cons
Does not work well on saltwater
Not good for big fish or big trout
Not great at long distances
---
5. Pflueger Trion Fly Fishing Reel – Best Fly Reel under $50
This budget fly reel is made for a better and smooth fishing experience. This reel is a lightweight reel which gives some relaxation to the shoulders. This type of reel is good for long hour use, as it is properly balanced.
Stainless steel protects it from harsh saltwater conditions. This reel is equipped with a center draw system which is used to fish in hard water conditions like drift, and also provides stability to the rod.
These reels are great for teaching beginners as they can draw the fish from any hand, left or right it gives equal result. These reels are designed for fast and strong fish species, as they can put a great amount of pressure and force on a fish.
Comes with a powerful knob which is used to control the lining, this under 50 dollars reel is an excellent choice for all types of anglers.
This reel comes at a cheap price and offers the best quality there is which is worth buying.
Pros
Lightweight
Large arbor size
Powerful knob
Central drag system
Cons
They don't hold many lines
Nonadjustable drag
---
6. Okuma SLV Diecast Aluminum Fly Reel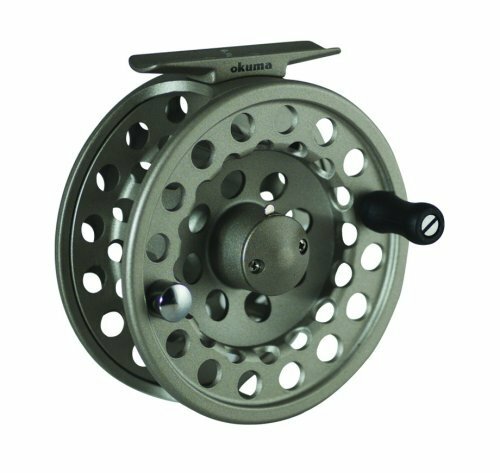 These reels can perform any task on water and are suitable for all types of anglers. These reels are heavyweight reels which increase the rate of bringing the fish out of the water. This reel is designed to fight against big fish and easily attract them. These reels can smoothly work with the fly rod and control the movements of the fish by drawing them in a particular direction.
This reel offers a fast recovery of the line which saves time and reduces the chances of fish to escape.
These reels come with a short length which gives the rod extra power to maintain stability while fishing. This reel work well on saltwater, made with stainless steel to avoid corrosion from saltwater. These reels are equipped with large arbor which gives angler the ability to throw the line at farther distances. This reel can be a suitable option to buy for people who like to take on big fishes and big trout.
Pros
Large arbor size
Fast recovery rate
Suitable for big fishes
Cons
Causes shoulder pain
Not suitable for beginners
---
7. Wright and McGill Dragon Fly Reel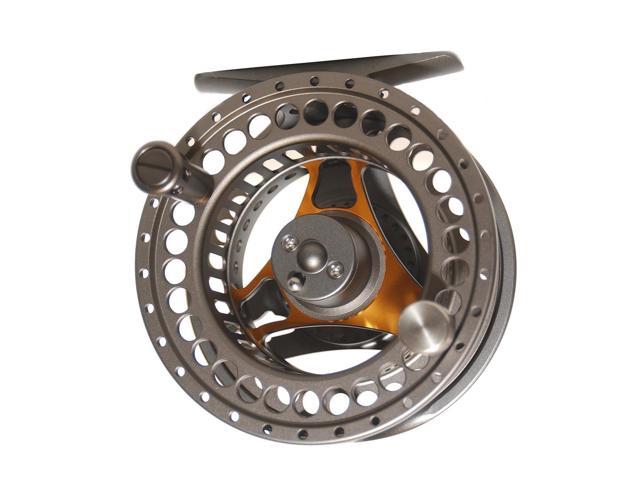 Wright and McGill Dagon Fly Reel are made up of lightweight design which is a great benefit to newcomers. This reel is effective in case of speedy species of fish and other small fishes which are hard to catch. These reels offer precision-based aiming in which angler can draw the line at the right position, and increase the chances of catching fish.
This reel provides smooth function while releasing the line. Equipped with a focused drag system this reel has the ability to attract the fish in a particular direction. This counts as a great feature which makes it a buyable option for many anglers.
This reel comes with a large arbor design which can hold large amount of line.
This reel comes with a protective case to protect the reel. These all factors including a affordable price can be all an angler can ask for.
Pros
Lightweight
Super large Arbor
Protective case
Good for beginners
Cons
Not suitable for saltwater
Nonadjustable drag
Conclusion
You can save your hard-earned money and still get that superior quality fly reel under the price of $100. You can check out all the above-mentioned reels which can suit you and your style of fishing. These reels can add even more value to you by providing better functioning and services. Many expensive reels just take money out of your pocket and in return give bad quality functioning. While purchasing a reel one must keep in mind all the aspects like drag, weight, and arbor size to get a better functioning reel, for a much affordable price. From the above-mentioned reels, you can choose a reel according to your suitability.