In this Orvis clearwater review, we are going to share the minute details of Fly rod and reel.
The Clearwater fly rod is perfect to be used primarily in freshwater as they come in multiple line weights that will cover any freshwater fishing scenarios. Best suitable for freshwater as well as saltwater environments, these rods are available in 3 weight up to 5 weight for freshwater fly fishing where the price starts at $198. And for 6 weight up to 12 weight for saltwater fishing, the price ranges between $200-$250.
But if you are looking to get complete orvis clearwater outfit, you may need to spend somewhere around $300-$350. Once you get this rod and reel combo you will be ready to fish without much wait.
Orvis Clearwater Rod Review
Orvis Clearwater fly rod is often considered as an all-rounder trout fly rod as this offers a nice mixture of finesse and power that can easily target the fish up to 60ft. This rod comes with a strong and powerful disc drag system that helps to keep pressure and stop a large fish and also offers many different operating ranges which helps to draw the fish.
The cork grip has been upgraded, that makes it easy to hold the rod for longer duration of time. The Clearwater fly rod is built up with a perfect combination of power and accuracy that allows the fisherman to perform great casting experience.
If you buy a orvis clearwater fly rod outfit you will get a Fly Rod, LA II Reel, Fly Line weight 5, Dacron backing and a cordura rod tube
Pros
Large arbor size
Powerful drag system
Full well cork handles
Fast medium action rod
25-year warranty
Affordable price
Gear is of top quality and is very durable
Cons
Rod is slightly more stiff
No alignment dots
Not good for fishing inside 25ft
Not much suitable for beginners
Orvis Clearwater Reel Review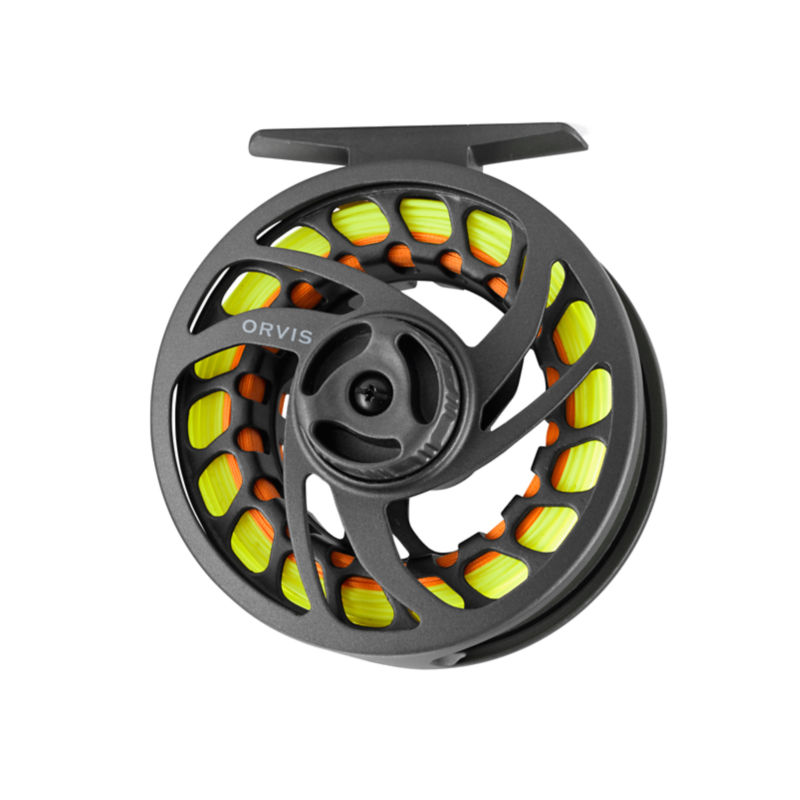 Orvis Clearwater Fly Reel is considered to be the smoothest reel on the market. This reel is die- casted in aluminum which helps to protect the reel in saltwater conditions. This reel is equipped with a disc drag system which performs efficiently.
With the help of this drag system angler can throw and recover the line at a fast speed. The reel is sturdy, while the graphite insert is strong and requires little maintenance. The Clearwater fly reel comes at a very affordable price compared to other fly reels in the market.
Pros
Affordable price
Powerful inline
Can be used by both left hand and right hand
Positive click drag knob
Cons
Not hook cap
The texture and finishing are not that smooth
Key features of Orvis clearwater combo
---
Weight, Line and Length
Orvis Clearwater fly rod is a perfectly balanced rod. This rod comes in different weight models up to 12-weight and has a smooth and an effective working line. Line weight is kept according to the weight of the rod so that line can cover various distances. The 4-weight rod is good for luring small and speedy fishes, whereas the 9-weight rod is perfect for catching big fishes. If one wants to learn short-range casting for the first time, the 3-weight fly rod model will give you the pace you need.
Rod Action
Comes with a fast rod action, the Orvis Clearwater does have enough power to get the rod out to 35-60 feet, but the further you cast, the more accuracy you lose. The tip of the rod is softer with more sensitivity which provides a necessary amount of force to the line to reach its target. The fast rod action of this rod allows a deeper bend in your rod and it is also powerful enough to cast longer distances on the water and pull out big fishes. The taper designed makes the rod action a powerful feature for freshwater as well as saltwater fishing.
Build Quality
Orvis Clearwater fly rod is equipped with black chrome blank. Blank protects the rod by providing small wrap on the section between fly reel and the rod. This fly-fishing rod is fixed with a strong and well-built disc drag system which produces enough force to lure a fish and catch it in. It also comes with a great strong rod tube that protects your rod and keep it safe while travelling.
How much Warranty does Orvis provide?
A warranty is a sure thing every angler wants. Orvis Clearwater fly rod offers a 25-year warranty which the angler might not get with other fly rods. Anglers can use Clearwater fly rod anywhere they like without any worry.
If an angler breaks the rod while fishing or any other incident, Orvis will fix your rod or replace them for small amount of charge. If the rod is already damaged or ineffective than Orvis would replace that rod for free of cost. But in case there is fire or theft then there is no responsibility of Orvis to replace or fix the rod.
Orvis Clearwater Vs Orvis Encounter
Orvis Encounter fly rod is bent from upper section which provides greater flexibility than Orvis Clearwater. This offers a more sensitive tip whereas the Clearwater offers a soft tip with less sensitivity.
Orvis Encounter is equipped with gun smoke aluminum reel seat which helps to perform well against saltwater. This rod also comes with a weight forward floating line which helps in better casting than Orvis Clearwater fly rod. While the Encounter fly rod is $20 to $30 cheaper than Clearwater.
Orvis Clearwater Vs Orvis Recon
Orvis recon fly rod is equipped with 7 halves well grip which provides a smooth and long-lasting hold while Orvis Clearwater comes with full well grip which does not provide a long-lasting hold.
The Recon has a more powerful drag as compared to Clearwater. If both the rods are compared on the basis of their rod action, Clearwater is a slow action than the Orvis Recon. The Recon costs you double the price of Clearwater.
Orvis Clearwater Vs Redington Vice
Redington Vice fly rod is a fast action rod that performs well against the wind while the Orvis Clearwater is a medium-action rod that doesn't perform well against the wind. This product from Redington can be quite heavy for short distance fishing but the Clearwater is a lightweight fly rod that is very much appropriate for short distance fishing.
The Vice fly rod has a very large arbor size as compared to Clearwater. Redington offers a lifetime warranty on the Vice fly rod and a 1-year warranty on its reel whereas Orvis offers a 25-year warranty for both rod and reel of the Clearwater fly rod.
Alternatives for Orvis Clearwater Fly rod
There are many fly rods which come with similar features and price. Thus, it is important for an angler to also look for other options in order to get the best fly rod. One needs to look at many factors such as durability, weight, price, warranty, material used to choose the ideal rod. After some research I have picked some alternatives for Orvis Clearwater fly rod.
Redington Crosswater fly rod
Redington Crosswater fly rod is a good alternative to Orvis Clearwater. This rod comes in different weights ranging from 4-weight to 9-weight and is equipped with graphite blank which makes the rod lightweight and strong. It responds with a great speed and has the capability to fight against the fish.
The alignment dots on the rod improves its performance. All the features and specifications of this rod is same as Orvis Clearwater but the only issue with the Crosswater is that it offers a limited one-year warranty to replace or fix the damaged rod.
Temple Fork NXT Fly Rod
Temple Fork NXT fly rod is a fast action lightweight rod that is made from graphite IIIc technology which is affordable and more durable. This fly rod offers a powerful drag and a smooth rod action and is available in different sizes from 4-weight to 8-weight. As it is well equipped with matt black blank and stainless stripper guides, thus it perform well in saltwater conditions.
Temple Fork NXT offers a lifetime warranty, extra features and is around $50 cheaper than clearwater that comes with only 25-year warranty.
Conclusion
We hope you liked our Orvis clearwater reviews of fly rod and reel.
Orvis Clearwater is an all-rounder fly rod with all the latest features and qualities. If you are looking for a fly rod in an affordable price which provides great value to your fishing, you should consider this. But while choosing the right fly rod one must consider some important factors like weight, line, rod action, warranty, price, build quality and overall features to decide and come to a final decision. You should spend your money for the fly rod which suits you the best.
Read about other Orvis Rods which suits trout such as Orvis Helios 3.